SWIL Events
There are things that SWIL does. Some of them even annually. Here is a totally non-exhaustive list of things that, as of 2006, are annual events:
the Pterodactyl Hunt
SWILloween
Inauguration (first weekend after winter break)
the St. Valentine's Day Massacre
the Root Beer Kegger
Walpurgisnacht (a storyreading of horror, fertility, and trees, as close to April 30 as scheduling allows)
the Schlock Film Festival
And there are many more which are no longer annual, but still lurk in institutional memory, such as:
the End of the World party
Driving out the Snakes from Swarthmore (March 17, if classes are in session)
Pterodactyl Hunt Advanced (under development)
SPAMageddon
For more information on upcoming SWIL events, subscribe to the [FUN] list, email the presidents, or check the SWIL bulletin board in Parrish.
---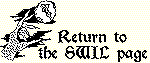 EVENTS / Fall 2006 /