Birdwainer and George
SWIL historically maintains two libraries: The Cordwainer Bird library (often referred to as "Birdwainer"), on the second floor of the Cornell Science Library, and the George C. Hurliman Memorial Library Memorial Library Memorial Library Memorial Library (also known as "George", but spelled "Alex Weirich"), currently on Parrish fifth (Room 471), but eventually to be relocated (and to be rerererenamed in honor of itself) to some as-yet-unspecified location.
The contents of these libraries are various works of science fiction and fantasy. Anyone who wants to may check these books out, regardless of whether they have a Swarthmore/Tri-College library card - just write your name on the card and leave it in the box. Please return books to the book return shelf in Cordwainer when you're done with them, rather than to one of the main libraries..
Current Library Catalogues: (compiled by Mai Pucik, Jillian Waldman, and Andrew Brown)
Cordwainer Bird Paperback Fiction
Cordwainer Bird Anthologies
Cordwainer Bird Nonfiction
Cordwainer Bird "Star" Books
Cordwainer Bird Hardcover Fiction
George Paperbacks
George Anthologies
George Movies

Previous attempts to catalogue:
(there have been other lists made, but these have been typed up and left on the server for me to find)
Birdwainer
George
Some Additions
For more information about the libraries, please contact

, or the Birdwainer Librarian, Emmanuelle Wambach.
---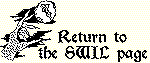 LIBRARIES /